We want you to have the best possible experience during your time in MIC. This involves having your wits about you and following the advice below to keep safe as a student. If you ever need assistance or support, please contact MISU, the nearest Garda Station or a college support service.
The Campus Watch campaign and information from An Garda Síochána contains a wealth of information on personal safety, ranging from advice on staying safe in your accommodation, information for victims of crime, drug and alcohol awareness and many more topics covered.
Click here to read the Campus Watch booklet.
10 Ways to Stay Safe When You're Out And About (especially alone)
If walking, use busy routes that are well lit and keep away from dark alleys or roads that look a bit dodgy.

Always tell someone where you are off to and it's no harm to give them a quick ring to say you got there safely.

When unsure of your surroundings or feeling unsafe walk facing traffic so that cars can't pull up on you from behind.

Don't be flaunting your iPhone or fancy jewellery because it may attract muggers.

Don't have a full wallet with you because if you're ever mugged all your cash and cards will be stolen.

If you're going somewhere and think you're being followed, get to the nearest place with people, if you still feel unsafe then ring the guards. Henry Street Garda Station phone number is 061-202400 and Thurles Garda Station's phone number is 0504-25100.

If you are a victim of assault (physical or sexual) there's help there for you 24/7. Please contact the Gardaí immediately, 061-202400 (Limerick) or

0504-25100

(Thurles). By reporting it, you're preventing the attacker from reoffending.
Try your hardest not to travel alone at night. It's true what they say there's safety in numbers whether that's on foot or in a taxi. If there's no other option but to go on your own make the shortest but safest journey you can.
If you have been beaten up, go to the hospital and call the guards to report it. You're a fool if you don't because the assaulter roams free and will strike again. If you can't face the guards, talk to someone in Chaplaincy or a counsellor. If you can't do it right away just remember there's always someone to talk about what happened. If you decide you want to talk to someone at a later stage, don't hesitate to contact the services.
If you're unable to attend college as a result of injuries, you should contact your Faculty Office. The Arts Office can be contacted on

This email address is being protected from spambots. You need JavaScript enabled to view it.

and the Education Office on

This email address is being protected from spambots. You need JavaScript enabled to view it.

.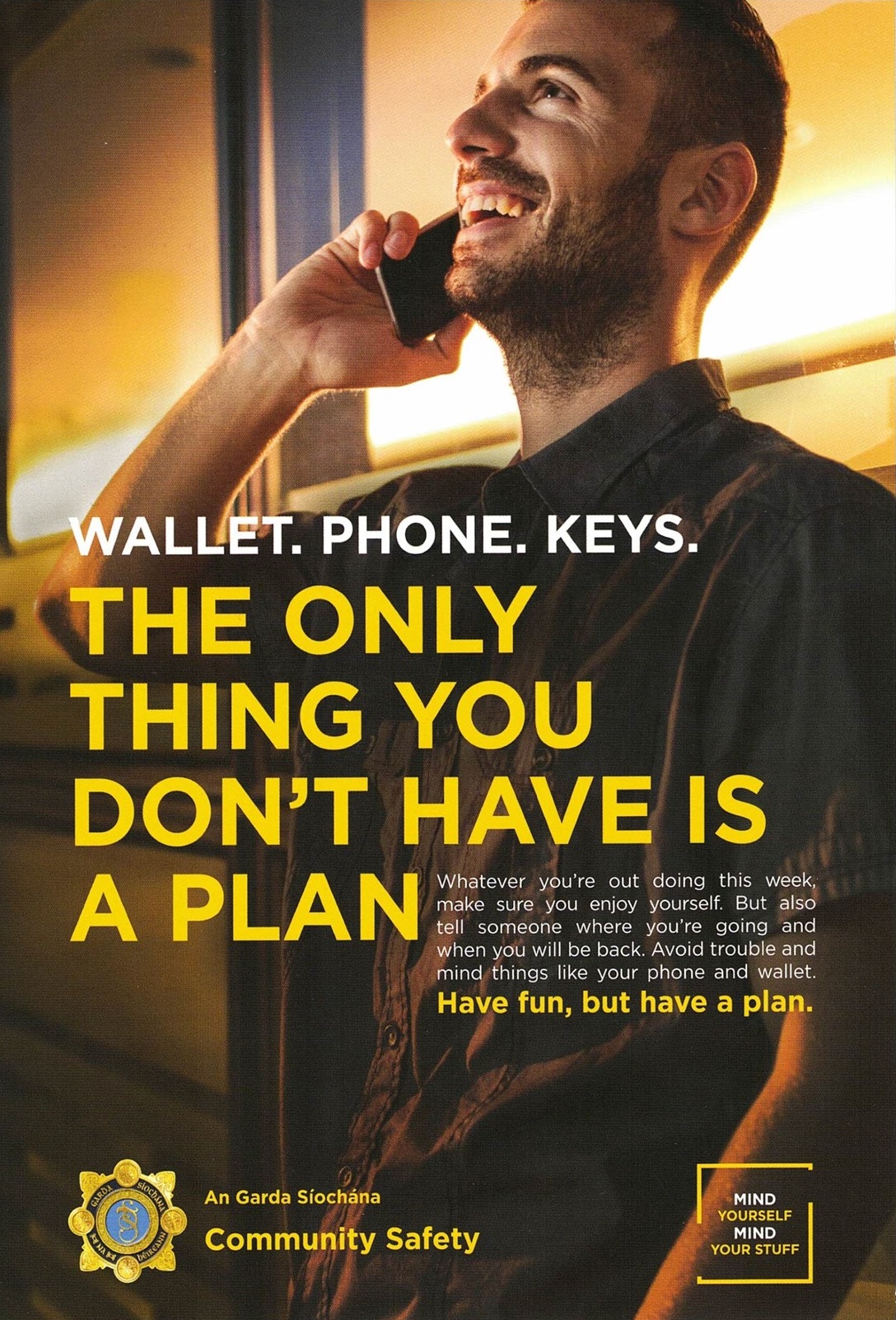 Staying Safe on the Roads
Driving
Don't ever take alcohol and/or drugs and drive. You are putting both your life and the lives of others in danger.
Don't text or talk on the phone while driving. You've seen the ads, you know what can happen.
Watch out for cyclists and pedestrians, especially at night time when they may not be wearing high-viz clothes.
If you're feeling sleepy pull in and have a nap, then drive. If you fall asleep at the wheel it's not going to end happily.
When parking, avoid isolated or darkened areas. Use somewhere that's well-lit at night.
Cycling
Always wear a helmet. It could be the difference between life and death.
Make sure all your reflectors work and that you also wear reflective clothing when cycling.
Walking
Walk on the path or if there is none, at the edge of the road and against traffic.
Make sure to wear a reflector or high-viz clothing, especially at night time.
Keeping Your Stuff Safe
Car
Don't leave anything valuable in your car. If you have to, put it in the boot.
Leave the glove box open and empty to deter thieves.
Don't leave any important documents in your vehicle such as your licence, insurance certs etc.
Make sure your car has a good alarm system or immobiliser. Steering wheel locks are also a pretty good deterrent if you have none of the above.
Bike
When you buy a bike, make sure you get a receipt showing the name and address of the seller/trader, together with the make, model, colour and frame number of your bike. Retain this receipt for future reference.
If leaving it unattended, secure your bike by using a good quality-lock.
Leave your bike in a secure area so it is difficult to steal without being noticed.
Take a photo of your bike so you can show it to the guards if it is stolen. There's also no harm engraving a number into the frame which would help you identify it if it's found.
Safety at your accommodation
Burglary Prevention:
Most day-time burglaries take place in unoccupied homes. Use the following tips to help prevent a burglary:
Ensure your apartment and house doors are locked at all times. When vacating your apartment, check to ensure that all windows are locked.
Never give your apartment keys to anyone else and do not leave your keys where others could have access to them.
Before you admit any callers to your apartment, ensure you are satisfied with their identity – ask for identification if in doubt.
Inform a trusted neighbour if you are going away.
Don't show obvious signs of a vacant apartment - curtains drawn during daylight hours etc.
Keep bank cards, credit cards, passports and other items of value in a safe place. Keep photographic records where necessary.
Do not leave loose cash at home.
Fire Safety Tips
Your apartment/house should be fitted with a working smoke detector already. If not get smoke alarms, and test them regularly. €15 is a small price to pay to protect yourself.
Put the smoke detector somewhere it can be heard all over the house.
Keep a fire extinguisher or a fire blanket in the kitchen.
Make sure all electrical appliances, sockets and leads are in good working order.
Do not overload sockets.
Do not use a chip pan, they're too dangerous. Buy a proper deep fat fryer, they are pretty cheap nowadays.
Check that the cooker/hob is off and always put out an open fire before you go to bed.
With an open fire, always use a fireguard and ensure the room is well ventilated.
Plug out all appliances (especially the TV and hair straighteners) before you go out or go to bed.
Smokers - use proper ashtrays and do not smoke in bed.
Keep heaters away from furniture and curtains and don't move them when they're turned on. Make sure there's good ventilation in the rooms where you use them.
Roll, don't fold, an electric blanket if you're storing it.
Have an escape plan. Know the best way for you and your housemates to get out if you have to.
Spiking Awareness
Spiking is when someone gives another person drugs or alcohol without their knowledge or consent
Anyone can be a target of spiking
More information on Spiking Awareness, can be found here.