Details

Category: Student Supports
DIAL 999 OR 112 FOR EMERGENCIES
Medical Centre - MIC Limerick
Location: T307 on the third floor of the TARA building
Opening hours: Monday to Friday 9am to 4.30pm
Campus Doctor Clinic: Monday to Friday 2pm to 4pm
Appointments can be arranged by:
T: +353 61 204343
E:

This email address is being protected from spambots. You need JavaScript enabled to view it.

(from student account only).
T: +353 86 0840438 (lunchtime only)
Fee: There is a charge of €10 (payable by card only). There is no charge for Medical Card/ GP Visit Card.
European Health insurance Card holders (for non-Irish residents), please bring your current EHIC Card.
If all the appointments are filled at the MIC Medical Centre, a doctor will see MIC students in the nearby Ashdown Medical Centre for a fee of €40 with their MIC student card. T: + 353 61 301200 for an appointment.
Weekend and after hours service is not provided by MIC Medical Centre. However, Dr. James Fehily, Ashdown Medical Centre, will see students our of hours in an emergency (T: +353 61 301200). Alternatively, students can call Shannondoc on + 353 (0)818 123500 or +353 61 459500.
If out-of-hours, please telephone ShannonDoc at +353 818 123500.
Out of Hours Doctor
Shannon Doc (after 5pm) - T: 0818 123500 or 061 459500
Local Injury Unit (8am to 7pm, 7 days) - T: 061 462132
St. John's Hospital, V94 H272
Ashdown Medical Centre (9am - 5pm) - T: 061 301200
Courtbrack Ave, South Circular Rd, Limerick V94H9KR
Emergencies
Emergency Department, University Hospital Limerick - T: 061 301111 (open 24 hours/day)
St Nessan's Road, Dooradoyle
Limerick V94 F858
Urgent Attention/ Emergencies
Students who need urgent medical treatment should proceed to the A&E Dept. at University Hospital Limerick, Tel: +353 61 301111 (24hr cover) or to St. John's Hospital, Tel: +353 61 415822 (8am - 6pm, Monday to Friday).
In an emergency, dial 999 or 112.
EU Students: You will need to bring your European Health Insurance Card when attending the doctor/hospital.
Thurles
A GP Service is available for MIC Thurles students:
Dr Liam Collins, The Surgery, Fianna Road, Thurles
T: +353 504 21155. There is a €10 charge for an appointment for an MIC student.
If out-of-hours, please telephone ShannonDoc at +353 818 123500.
Thurles Campus:
Details

Category: Student Supports
The Academic Learning Centre offers the following services:
One-to-one academic support and tutoring: Students are welcome to call to the ALC for one-to-one advice on aspects of learning at third level. The ALC team is available to advise on essay writing (independent and confidential advice is given on how to improve the structure and writing style of essays and essay planning), study skills, time management and exam techniques.
The ALC offers subject-specific support in areas of critical need, namely Gaeilge and Mathematics.
Pre-exam planning: The ALC offers help in planning individual study programmes, especially in the lead up to exams. This helps students make the most of their time and assist in future study planning.
The Academic Learning Centre Handbook. This comprehensive handbook is available here and includes chapters on study skills, academic reading, time-management, structuring essays, referencing academic essays (Harvard and Footnoting systems) and preparing for exams.
The ALC is also concerned with encouraging mature learners, whose educational experiences and opportunities in their earlier years may have been limited, to consider returning to education by promoting the various access routes available to them and providing both the Pre-University Programme (PUP) and the Foundation Certificate for Mature Learnersconsidering embarking on third level education. These programmes are delivered on a part-time basis to facilitate those who wish to sample university-level education but who are in employment, and/or have families and other care responsibilities.

MIC Limerick
To make an appointment with the ALC, please email

This email address is being protected from spambots. You need JavaScript enabled to view it.

.
To make an appointment for the Maths Support Unit, please email

This email address is being protected from spambots. You need JavaScript enabled to view it.

.
MIC Thurles
The ALC Thurles is located in room 204 and is available on Mondays from 10am-5pm. Email

This email address is being protected from spambots. You need JavaScript enabled to view it.

to make an appointment.
Gaeilge Support Thurles is also available in room 203 on Mondays from 10am-4pm. Email

This email address is being protected from spambots. You need JavaScript enabled to view it.

to make an appointment.
Details

Category: Student Supports
Chaplain (Limerick Campus)
Fr. Michael Wall
The chaplaincy team are here to help any member of the college community to grow and develop to their full potential and enjoy their years in college.
Provides religious services and opportunities for faith information
Provide services for non-Catholic Students (everyone is welcome).
Supports students during times of bereavement, illness and during occasions of personal or family upheaval
Fosters social justice and provides opportunities for Volunteer work.

Each semester, two students from the BA Arts Course complete their Co-Op year in the Chaplaincy and work alongside Fr. Michael Wall.
Contact: 061-204339/ 061-204331
Email: This email address is being protected from spambots. You need JavaScript enabled to view it. / This email address is being protected from spambots. You need JavaScript enabled to view it.
Fr Michael Wall is available almost 24/7 on his mobile 086 2550436.
The chaplaincy team is here to help any member of the college community to grow and develop to their full potential and enjoy their years in college. The chaplaincy service is here to serve people of all faiths and none.
Location: Chaplaincy T. 1.08 (Near the Lime tree box office in Tara)
Other chaplaincy venues on campus: The College Chapel, a symbol free meditation room (G33b), The Meditation room behind chapel and the Chaplain's Office G.48. They are worth a visit!
Chaplain (Thurles Campus)
Fr. Joe Walsh
The role of the Chaplaincy service is to provide a supportive environment that fosters a spirit of inclusiveness on campus.
The college chaplain Fr. Joe Walsh is available on campus during the week and is usually present in the refectory during these times.
If you wish to chat privately with Fr. Joe please let him know.
Hours:
Monday, Tuesday, Thursday (and some Wednesdays) 11am - 2.30pm
The role of the chaplain:
Supports students during times of bereavement, illness, and during occasions of personal or family upheaval.
Regular drop in service for a chat (if you would like to talk with him privately please let him know).
Provides religious services and opportunities for faith information
Available for emergency contact
Details

Category: Student Supports
MIC Limerick
Our team of counsellors are available to offer you support, online or in-person, Monday-Friday, 9am-6pm. The Counselling Service is located in rooms T311 & T312 on the third floor of the TARA building along the corridor from the Medical Centre.
1. By calling to 'Drop-In':
Drop-In is an hour set aside daily where you can call up to the Counselling Service without an appointment to meet one of the counsellors for an informal chat and arrange subsequent sessions if needed.
Drop-In is 11.30 am-1pm, Monday to Friday in rooms T311/ T312
2. By Email: If you are not on campus or this drop-in time doesn't suit your timetable you can email: This email address is being protected from spambots. You need JavaScript enabled to view it. to arrange a time for an initial meeting on campus or via TEAMS.
MIC Thurles
Monday-Friday: Fiona O'Dwyer
+353 504 32033 / +353 87 9088710
---
Are you unsafe or in a Suicidal Crisis/Emergency out of hours?
It is very important that you keep yourself safe so, if you feel increasingly at risk please reach out to gain support and contact immediately:
Your GP
Free Text: MIC to 50808 (Text 50808 is a 24/7 Crisis Text Line where you can engage via text with a trained volunteer)
Pieta House: Freephone 1800 247 247 or Text HELP to 5144
If your life is in imminent danger, please call 999.
Other supports include:
Shannondoc: 0818 123 500
A&E dept.for mental health crisis: 061 301 111
The Samaritans: (Free-call) 116 123
AWARE: 1800 804 848
Rape Crisis: 1800 311 511
Confidentiality
The Counselling Service operates within the terms of confidentiality as laid down by accredited professional associations (IACP, IAHIP, ICP). This means that nothing you talk about is disclosed to anyone outside of the service/supervision process without your expressed permission, except in exceptional circumstances regarding safety/at risk situations, the disclosure of on-going or past child abuse, or if records are subpoenaed by law.
Community, Mental Health Courses & Resources
Togetherall is a safe, anonymous, online community for mental health support. It is a place to express yourself and support each other. You will have access to a range of different courses on topics of concern such as anxiety, procrastination, self-harm, problems sleeping etc. There are assessment tools and articles to help you understand how you are feeling and techniques to help you manage your mental health.
Togetherall is free to all MIC Students! Just register with your academic email. Visit the site at https://togetherall.com/ or click the image below.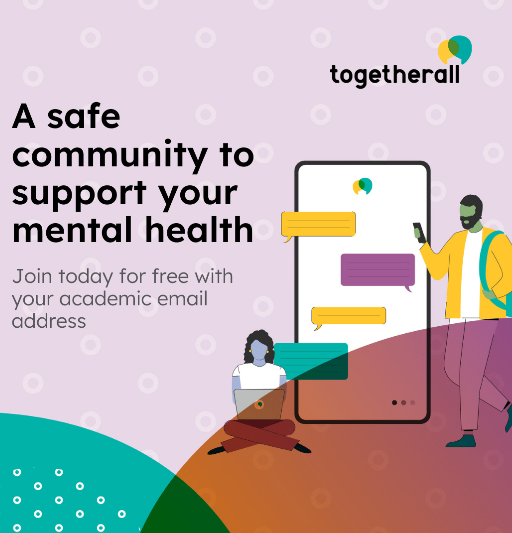 Details

Category: Student Supports
Supporting students through their academic careers by coordinating specialised services and providing information and advice on access issues.
Limerick Campus:
Access & Disability Officer: Shirley Kearney (Acting)

Where:
G01 (by Main Reception)
Monday to Friday 9.30 - 12.30pm and 2 - 4.30pm.
Overview of Service/Supports
• Designated Support Service: for HEAR and DARE students. Provision of supports, Information, advice, and advocacy assistance.
• Needs Assessments: Needs Assessments for Students with Disabilities to identify the reasonable accommodations required to support your academic program. Students with disabilities/ongoing medical conditions regardless of college entry route are encouraged to contact the office.
• Financial assistance: Information on the ESF Student Assistance Fund and other sources of financial assistance to assist students struggling financially.


Contact with the Access & Disability Support Service
Email: This email address is being protected from spambots. You need JavaScript enabled to view it.
Telephone: 061-204510
Further Information
Detailed information is available on MIC Student Portal in relation to Registering with the Disability Service and the types of supports available as well as information on how to make an application for Financial Assistance.
Thurles Campus:
Contact:

Paula Hourigan
Location:

124

Call Paula: 0504-20535

Email This email address is being protected from spambots. You need JavaScript enabled to view it..


There are many supports offered by the Access and Disability Office to assist students. It is important to note that this list is not exhaustive and other services and supports will be considered on an individual basis.
Pre-entry advice and information

Liaising with academic and administrative departments

Financial assistance

Special accommodation for exams and disability supports

Drop-in support
Prospective students from under-represented groups in third level, including socioeconomically disadvantaged students, students with a disability, mature students, minority groups, are encouraged to contact the Access/Disability Officer to become familiar with the supports available.
The Student Welfare Fund (SWF)
The Access/Disability Office administers the Student Welfare Fund which is an emergency discretionary fund is used to assist students at Mary Immaculate College. The fund originates directly from MISU and resources are targeted at those students most in need, on a once-off basis each year, subject to the availability of funding. Students who apply to the fund are assessed on an individual and confidential basis.
Application Procedure
Students are advised to contact the Access/Disability Officer This email address is being protected from spambots. You need JavaScript enabled to view it. in the first instance who will discuss the student's need for financial assistance in the strictest of confidence. This may involve making a referral to other services within the College or linking with external agencies, as appropriate. She may also outline the application procedure and assist students in completing the SWF application form.
Students are required to return their completed application form directly to the Access/Disability Officer and must provide supporting documentation along with their application to verify their financial situation and requirements. Examples of other supporting documentation that may be required include the following:
Demand Notice

Receipts for expenditure incurred (e.g. medical emergencies)
Proof of Income e.g. confirmation of student grant, social welfare statements, pay slips/P.60 (if applicable)
Proof of Income for Parents/Spouse (if applicable).
Recent Bank Statement (which includes transactions for two calendar months).
When to Apply
This depends on a student's individual circumstances if they feel they are in a crisis or emergency situation at any time during the academic year.
Categories of Funding
Funding is available under the following category;
Exceptional circumstances
Circumstances that may require emergency funding e.g. changes in circumstances or unforeseen difficulties during the academic year.